Hundreds waited to get a glimpse of the Queen of Soul in Detroit.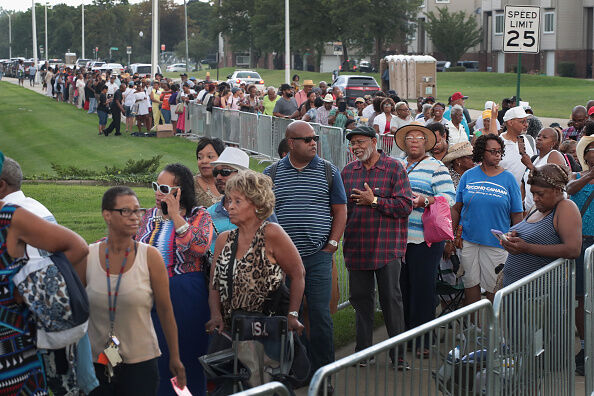 Hundreds of people waited in line to get a glimpse of the Queen of Soul on day one of the open casket public viewing of Ms. Aretha Franklin at the Charles H. Wright Museum. I read a story earlier today that the first person in line was a woman from Las Vegas who came to the museum yesterday at 4 PM. People came from all across the country to pay their respects to the Queen. Some had custom T-shirts and some were singing her biggest hits while standing in line.
Upon entering the museum, the first thing I saw was endless beautiful pink roses. Then I saw the casket. How could you miss it, it was gold with a cream lining. Ms. Franklin had on red from head to toe; a beautiful lace beaded red gown with flower detail and earrings to match. Her ankles were crossed highlighting her red heels. Her hair and make-up was flawless and her nails were a perfectly manicured with the perfect shade of red as well! She looked absolutely beautiful! Day two of the open casket public viewing is tomorrow from 9am-9pm.
Read more here: https://bit.ly/2N34VRc
Photo: Getty Images

ya girl Cheron
Listen to Cheron on Mix 92.3FM