Quincy Jones says Michael Jackson stole music.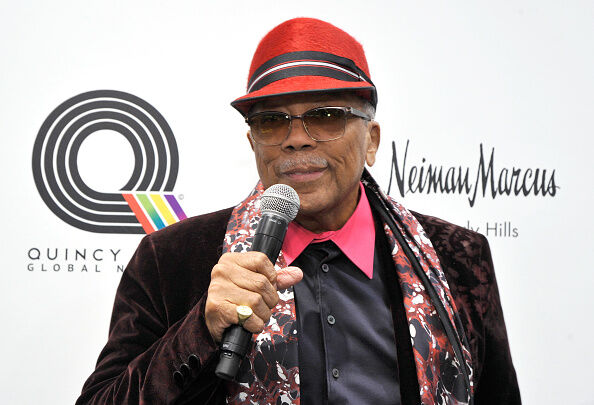 Music legend Quincy Jones has become the old man that can't stop talking!! First he tells GQ that he has 22 girlfriends saying, "Hell yeah. Everywhere. Cape Town. Cairo. Stockholm—she's coming in next week. Brazil—Belo Horizonte, São Paulo, and Rio. Shanghai—got a great girl over there from Shanghai, man. Cairo, whew."
Now he says he dated none other than President Trump's oldest daughter, Ivanka Trump! What?! Where?! Jones spoke to Vulture about the president and said, "It's Trump and uneducated rednecks. Trump is just telling them what they want to hear. I used to hang out with him. He's a crazy motherf**ker. Limited mentally, a megalomaniac, narcissistic. I can't stand him. I used to date Ivanka, you know." He went on to say, : "Yes, sir. Twelve years ago. Tommy Hilfiger, who was working with my daughter Kidada, said, 'Ivanka wants to have dinner with you.' I said, 'No problem. She's a fine motherf**ker.' She had the most beautiful legs I ever saw in my life. Wrong father, though." 12 years ago Jones would have been 72, Ivanka 25…
But it doesn't stop there, he keeps talking. This time about the biggest artist in history, Michael Jackson! Quincy Jones had a very successful professional relationship with Jackson. Jones was the man behind the iconic album "Thriller", but reveals that he didn't always get along with MJ when it came to the music because he would take other artists' music and not credit them. "I hate to get into this publicly, but Michael stole a lot of stuff. He stole a lot of songs," Jones revealed. "'State of Independence' and 'Billie Jean.' The notes don't lie, man. He was as Machiavellian as they come. Greedy, man. Greedy. 'Don't Stop 'Til You Get Enough' — Greg Phillinganes wrote the c section. Michael should've given him 10 percent of the song. Wouldn't do it."
Then Jones got personal by saying "I used to kill him about the plastic surgery, man. He'd always justify it and say it was because of some disease he had. Bulls**t,"
What will Quincy Jones say next?? I can't even imagine, but I'll let you know when I hear!

ya girl Cheron
Listen to Cheron on Mix 92.3FM