This Pic Of D-Wade Falling On Chrissy Teigen & John Legend Is A Work Of Art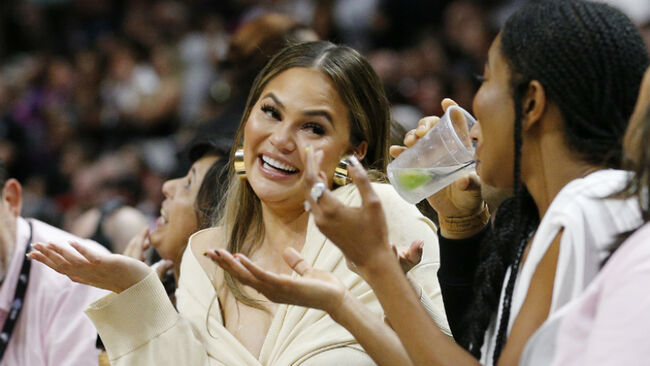 Tuesday night (April 9) was all about Dwyane Wade... until the 6-foot-4 basketball player crashed into Chrissy Teigen and John Legend and gifted the Internet the greatest meme of 2019! (And I mean that!)
It all went down during the final home game of D-Wade's basketball career. While sitting courtside, to watch Dwyane and his Miami Heat take on the Philadelphia 76ers, Chrissy and John found themselves in the crosshairs of what would become one unforgettable play.
After Dwyane stepped back following a three-point shot attempt, he somehow bumped, more like, crashed into Chrissy and John, who were sitting beside his wife Gabrielle Union, subsequently spilling John's drink all over him and smushing the stunned couple under his giant body.
The once-in-a-lifetime moment was perfectly captured by the Miami Herald, who shared the snapshot to Twitter shortly after. "Hey @chrissyteigen, let us know if you want a copy of this one. Photo by @CTJPhoto#OneLastDance#HEATCulture#WadeCounty#L3GACY, " the publication captioned the hilarious shot. Chrissy wasted no time responding to their photo, which the world is calling "a work of art," as she wrote: "😂 a renaissance painting."
If the photo wasn't enough, a fan also captured the moment on video — check it out below!
Talk about a night no one, especially Chrissy and John, will ever forget!
Photo: Getty Images