"Bogus" & "Unrealistic" Hampton University Pres. Shames BET's 'The Quad'
When BET's The Quad premiered on February first, it was welcomed by mostly positive reviews. However officials at Hampton University, a historically black college in Virginia, disagrees with the networks portrayal of life at historically black colleges and universities (HBCUs) The letter, penned by Hampton President William R. Harvey on Hampton letterhead and addressed to BET president Debra Lee, challenges the network's dysfunctional and perceived inaccuracy about student life on HBCU campuses.
The letter reads in part:
Devoid of any reference to academics, The Quad is about a president who is promiscuous, trustees who are unwilling to deal with a rogue band director, and a band director who condones criminal activity on the part of his drum major," Dr. Harvey wrote. "The Quad will lead many to believe that HBCUs exist because of their marching bands; that our presidents are unethical; that our boards are dysfunctional and have misplaced priorities; that our faculty, students and administrators are driven by sex, alcohol, marijuana, low self-esteem, parties and a preoccupation with music; that it is acceptable to disrespect women; that university policy can be set by a band director; and that there are no standards of conduct or penalties for bad behavior. This depiction seems more analogous to a disgruntled, adolescent and unrealistic point of view that some may have. It also feeds a false narrative about the irrelevance of HBCUs.
BET has yet to respond to Harvey's letter, however several members of other HBCUs have expressed support for Harvey's criticism of the show.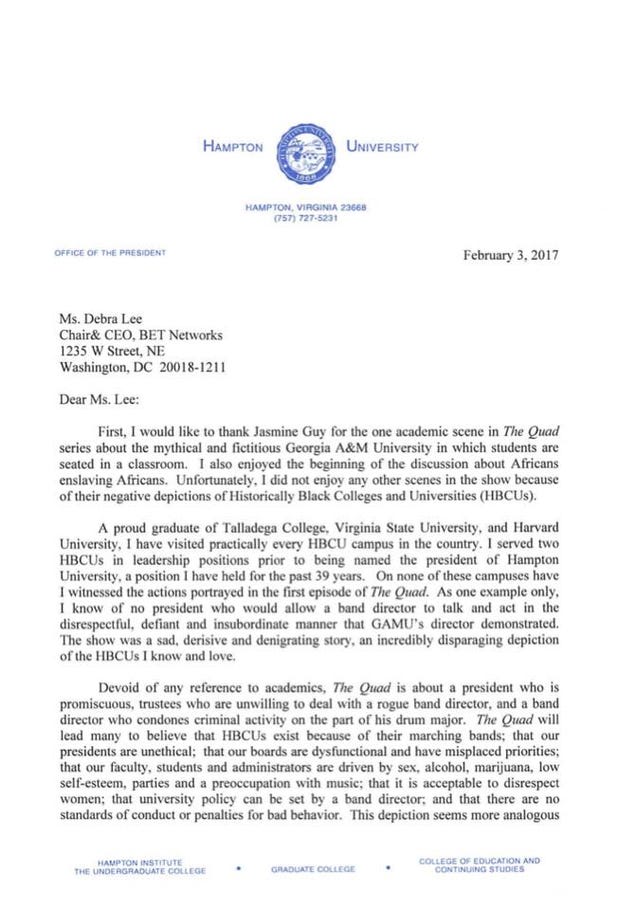 Afternoon Mix with Frankie Darcell
Want to know more about Afternoon Mix with Frankie Darcell? Get their official bio, social pages & articles on Mix 92.3!
Read more